In the heart-warming realm of dentistry, there are stories that stand out as shining examples of the profound impact a skilled dentist can have on someone's life. One such tale revolves around a lovely patient who embarked on a remarkable journey with the guidance of Dr. Vivek Giddani. 
With an unwavering commitment to restoring her smile and confidence, Dr. Giddani placed 9 dental implants, crafting a double-arch implant retained bridge that brought back her radiant smile and changed her life forever.
The Beginning of a Journey:
For this patient, the challenge was significant – having lost most of her teeth, and facing the reality of losing her remaining few, she was not only dealing with physical discomfort but also the emotional toll of a diminished self-esteem. Recognizing the transformative potential of modern dentistry, Dr. Giddani embarked on a mission to help this patient regain her smile and, consequently, her quality of life.
The Expertise:
Dr. Giddani's approach extended beyond mere dental restoration; it was about holistic well-being. His expertise allowed him to create a personalized treatment plan that involved placing 9 dental implants strategically to provide optimal support for a double-arch implant retained bridge. This approach not only ensured the patient's dental functionality but also brought back the aesthetics of a natural smile.
The Restoration Process:
The journey was an intricate one. Dr. Giddani and his team, including the Dental Laboratory who made the bridges (West Country Dental Crafts) , meticulously planned each step, from the initial assessment and implant placement to the final bonding of the implant bridge. The patient's comfort and peace of mind were at the forefront of this process, as every effort was made to ensure a seamless and pain-free experience.
A Radiant Transformation:
As the treatment progressed, the patient's transformation became evident. The new implant retained bridge, spanning both the upper and lower arches, seamlessly integrated with her facial structure. The result was not just a functional set of teeth; it was a radiant smile that illuminated her face, rekindling the lost spark of confidence.
A Life Transformed:
Beyond the physical changes, the emotional impact was profound. The patient's newfound smile became a mirror to her inner joy, reflecting a renewed sense of self-assurance and positivity. The journey with Dr. Vivek Giddani had not only restored her oral health but had also gifted her the ability to laugh, speak, and engage with the world without inhibition.
In the heart-warming narrative of this lovely patient's journey we witness the incredible power of modern dentistry to transform lives. Through skilful treatment, personalized care, and a deep understanding of the patient's needs, Dr. Giddani orchestrated a symphony of restoration that went far beyond teeth – it brought back a smile, and with it, a renewed zest for life. This story stands as a testament to the profound impact that compassionate and expert dental care can have on individuals, touching hearts and inspiring smiles.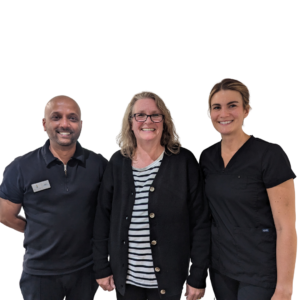 Back to Blog