Advantages with CEREC Digital Dentistry 
Time saving treatment in one visit
Digital Dentistry has arrived at Larkham House. Are you aware that with the help of CEREC technology, your dentist can design and produce high-quality dental restorations such as crowns, bridges, veneers, and onlays in just one visit? You won't have to wait for weeks to achieve your ideal smile!
Comfortable intraoral scan without unpleasant impression material
No more enduring the discomfort of biting on impression material for extended periods. With our latest technology, we can capture your complete teeth structure within seconds. The digital scan is not only faster but also highly accurate, and you can review the results on the screen in real-time.
In addition, we have the capability to send your scan to dental laboratories, which can provide highly accurate outcomes.
Your final restoration without temporary prosthesis
CEREC technology allows for the direct design, manufacturing, and placement of the final restoration in your mouth without the need for temporary solutions.
Long-term stability
It's not just a theory anymore – CEREC has proven its quality millions of times over. You can trust that your smile will remain beautiful for years to come.
Your restoration in one visit with Digital Dentistry 
                 1. The Primescan intraoral scanner captures the specific area that requires treatment.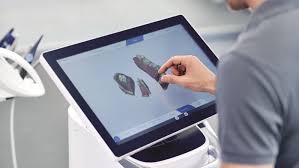 2. The designing of the restoration is done using a 3D model on the computer.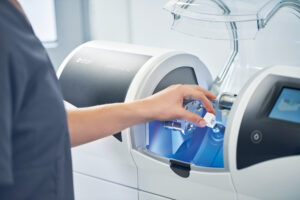 3. The restoration is fabricated right in Larkham House.
4. The restoration is then fitted into place.
Back to Advanced Dentistry